Instagram Reels for Business: Ultimate Guide And Actionable Tips
TechsPlace | In this article, you're going to learn everything you need to know about Instagram Reels. How they work within the platform and how to create your own reels. If you like what you see today, you're in luck.
One latest addition to Instagram is Reels. Instagram's answer to the popular short-form video platform TikTok. The new feature enables users to record, edit, and share three to 30-second videos in 9×16 portrait mode. These videos are added to an easily discoverable feed within the platform. While some Reels features are similar to Instagram stories, such as filters and adding audio tracks, there are some key differences.
Why Use Instagram Reels for your Business?
Businesses have started using Instagram reels because it is a great way to promote the brand. Many companies have even observed that there has been 60% more engagement than the normal video post. Many companies have gained benefits from Instagram reels. Therefore, you can potentially engage millions of customers and attract a massive audience when the Reel goes viral.
Let's take a look at those Reels-only features.
#. More Editing Tools: – There are more editing tools within Reels, including options for augmented-reality effects, the ability to align several clips for a smooth transition, and the ability to speed up or slow down the video.
#. Film in App and Upload:- Within Reels, you can film directly in-app or upload previously recorded videos from your camera roll.
#. Audio Attribution:- If you are uploading original audio, you'll be given credit. But other users can also include it in their own Reels. You don't always get it on the first try.
#. Stitch Takes Together:- With Reels, you can choose to share one take or several stitches. Reels have distinctly different sharing capabilities.
#. Share to Feed, Explore, and Stories:- Reels can be shared to the feed, explore, and stories, meaning that people who don't follow you can still see your Reels. Reels you create will also show up in a specific section of your profile.
#. Mobile Only: – Unlike posts and stories, however, you can't view or upload Reels on a desktop. They are mobile-only.
Why Instagram Launched Reels
Presently, the Reels' algorithm appears to function much like TikTok, and that it looks at your location, the accounts you follow, and other content you have interacted with to serve new content to your stories and feed.
And although advertising is not yet available in Reels because they show up in explore, it's a great way for your business to reach new audiences. You can also use Reels to create video views and custom audiences for retargeting based on users who have viewed your Reels.
This makes a huge difference if you are already using Facebook and Instagram ads in your marketing strategy. Additionally, if you track a lot of views on your Reels, consider using them to retarget your regular Facebook and Instagram ads.
It's easy to see how Reels can be appealing for individuals using Instagram. But you might be wondering how they can be leveraged for your business. In this Reel, you can see how easily the visual nature of fashion is a great fit for the Instagram platform.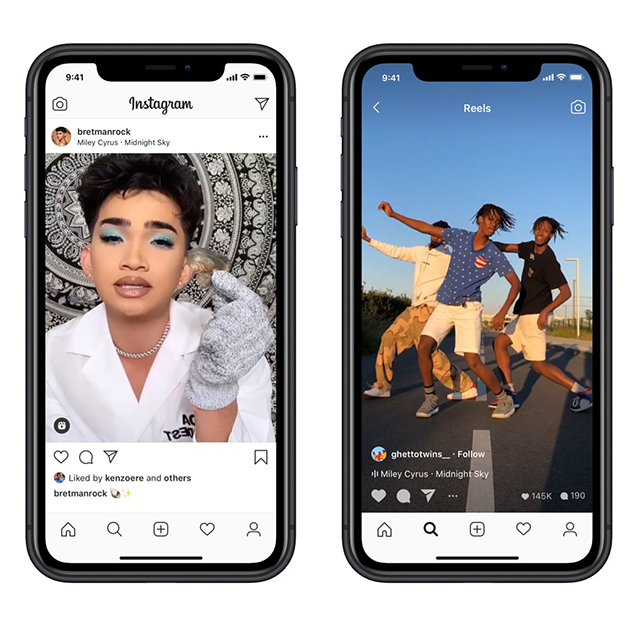 Reels are a natural fit for the travel industry. In fact, Reels are great for all sorts of [INAUDIBLE] companies, real estate, restaurants, clothing, and so much more.
What if your business isn't consumer-facing?
Reels may still be a good fit, depending on how well you've cultivated your audience. For example, critical care expert, Haney Mallemat, demonstrates his expertise by using Reels.
As of this recording, his Reels had over 30,000 views, which is pretty amazing for content that isn't the latest dance move or micro-recipe. Haney has done a great job honing in on and building his audience of over 24,000 Instagram followers who want to receive this type of content.
In general, the more followers you have, the better your content will do. So keep that in mind. If your brand has been using TikTok, you might be wondering if you can reuse those videos on Reels. The answer is yes. Because you can upload previously recorded content to Reels, it's a great way to repurpose your videos on a new platform.
To create a Reel, open up the story's camera and select Reels. Once you have filmed or uploaded your video, it's time to style it. The editing tools are on the left side of the screen. The editing tools enable you to choose to lip-sync music or a soundtrack for your Reel. You can change the speed of the video. The filters are similar to Instagram stories.
You can also set a timer to allow yourself to settle in front of the camera before the video begins. Remember, you only have 30 seconds for your Reel. The progress bar shows you how much recording time you have left. Once you're done recording, you can add stickers, drawings, and text. When you are finished, tap the arrow at the bottom to publish.
That will take you to the post screen, where you can choose a cover image, add hashtags, and publish your video to Reels. Reels will appear on the Explore page and a tab on your profile page.
The versatility of delivering Reels feels endless. You can post them to your feed, so they appear on your main grid, send them as direct messages, or even post them to your stories. Reels sent, and direct messages are posted to your story and will disappear in 24 hours.
At the time of this recording, there isn't a way to view the analytics of your Reels within Instagram insights. Instead, look at the comments and likes to get a sense of engagement.
Everything indicates Reels are here to stay. And their power continues to grow. Experimenting and familiarizing yourself with this outlet early on will help you reach more potential customers and showcase your business. Have fun experimenting with Reels.
Manoj Babal is a seasoned content writer, digital marketer and SEO expert, with years of experience in the field of marketing. He is an SEO analyst at Axis Web Art and loves every second of it. He is passionate about helping people in all aspects of online marketing flow in the industry. Also helping business with search and content marketing.