Extract Emails from Google Apps – Step By Step Guide
TechsPlace | Cloud technology has a positive impact on our daily lives. It helps organizations reduce costs, increase scalability and provides a big boost to their productivity. Every day, more and more individuals and businesses alike prefer cloud over the local systems to store and operate upon data. G Suite and Office 365 have played a major part in the rise of the cloud as a service. Both these suites lead the cloud productivity apps arena with overwhelming numbers. In this blog, we will take a look at the G Suite (formerly known as Google Apps), and the methods by which we can extract emails from Google Apps and other data items. But first, let us explore the reasons to backup Google Apps data.
Exploring the Reasons to Extract Emails from Google Apps
Google stores the G Suite user data at a remote location that we refer to as the cloud. It is a physical space that the end-users do not have to worry about. But still, it is a hardware location in itself. So, it is safe to say that G Suite is not invulnerable to loss of data or (more frequent) inability to access data due to cloud downtime. This is why backup is necessary. G Suite is not responsible for it, Users are!
Some reasons why G Suite backup is necessary:
Due to Human Error (70% of the time), users may lose data from the G Suite account.
Malicious third-party programs if installed on a system within the G Suite domain may hinder or affect the G Suite data significantly.
Several stolen devices have leaked a bulk of G Suite data in the past.
Ransomware attacks are probably the biggest threat to a business. But with regular backup of G Suite, ransomware won't affect the business productivity even if the cloud data gets encrypted.
Note: If you wish to move from G Suite to Office 365, take a look at this article.
Now, here are the methods to take a backup of G Suite mailbox easily:-
#1 Google Apps Export Tool
Google provides different methods to extract emails from Google Apps. If there is a requirement of exporting only a single user data, the Google Takeout function is more than enough to carry out the task. However, for bulk domain users, the only option available is the Data Export tool. This method requires some prerequisites to operate upon. These are:
Super-admin privileges are a must.
Domain needs to be at least a month old.
2 step verification process must be enabled.
Works for 1000 or fewer users of G Suite.
Now, use the following step by step guide to extract emails from Google Apps:
Start the G Suite Admin Console and click on the "<" icon.
Click on Tools >> Data Export and click on the Start button to start the G Suite backup process.
Within the next 9 days, an email with the download link of all the users will be delivered to the Admin account.
Open the email, and click on the Access archive button.
Here, download each and every user data from the archive.
Although this method seems easy to comprehend and execute, most G Suite users still don't prefer it. Read the following points to know why?
Lack of any pause and resume option.
This method does not allow frequent backups. Each backup must take place after at least 30 days.
There is no option for selective backup. Admin cannot choose the "type of data" or "number of users" for data backup. This results in unnecessary time consumption.
It may take up to 9 days for the just download link to appear. Additional time required for download, if added to the total calculation may take up to 2-3 weeks for the complete backup process.
#2 SysTools Google Apps Backup Tool
This G Suite Backup Tool is designed with the flaws of the Export tool is mind. It not only offers the option to select and export the type of data (emails, contacts, calendars, documents) but also provides the admin with a way to backup only selective G Suite user accounts. The pause and resume feature with the additional retry option adds to the flexibility of the software. Above all, the tool prioritizes both performance and accuracy to ensure a rich user experience.
Here's how to extract emails from Google Apps data items:
1. Start the G Suite Backup tool on your system.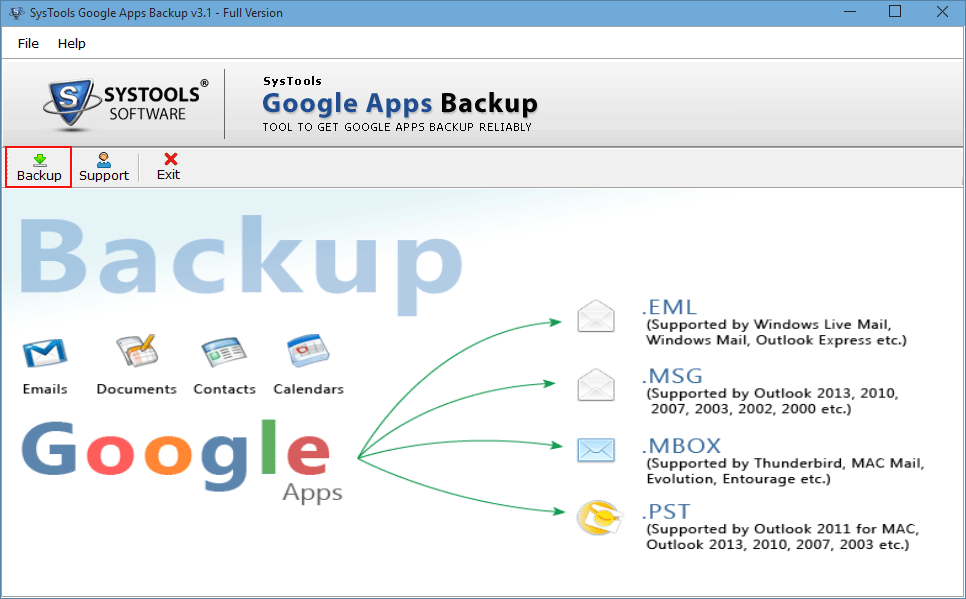 2. Login into the Single user account for individual G Suite backup.
Note: Alternatively, click on Domain Users button to login with the admin credentials. Choose the user accounts for G Suite backup.
3. Now select the Data Category: Emails, contacts, calendars, documents.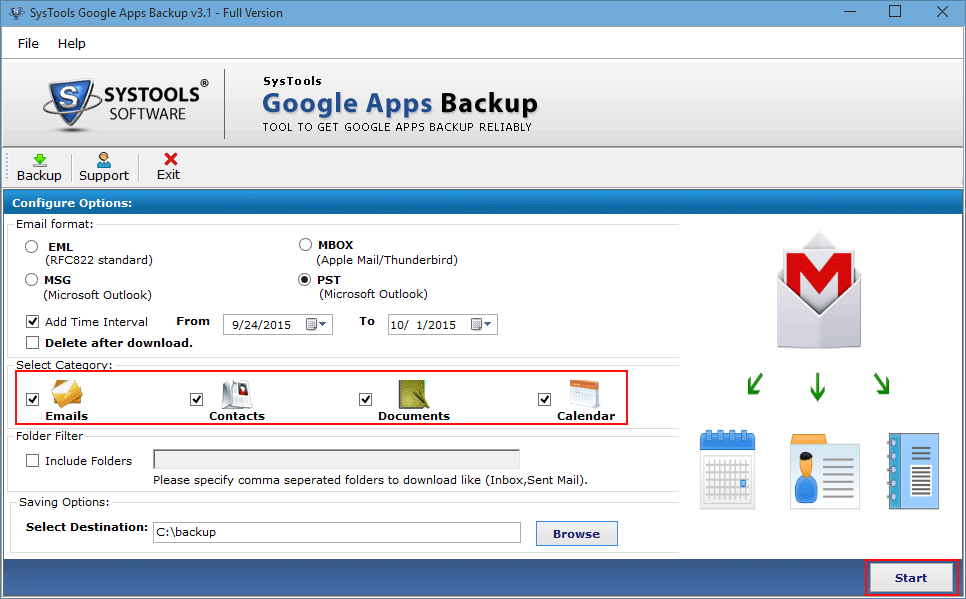 4. Apply additional settings such as selective mailbox folders, mail filters, delete after download and multiple backup formats.
5. Click on the Start button to begin the backup of G Suite data.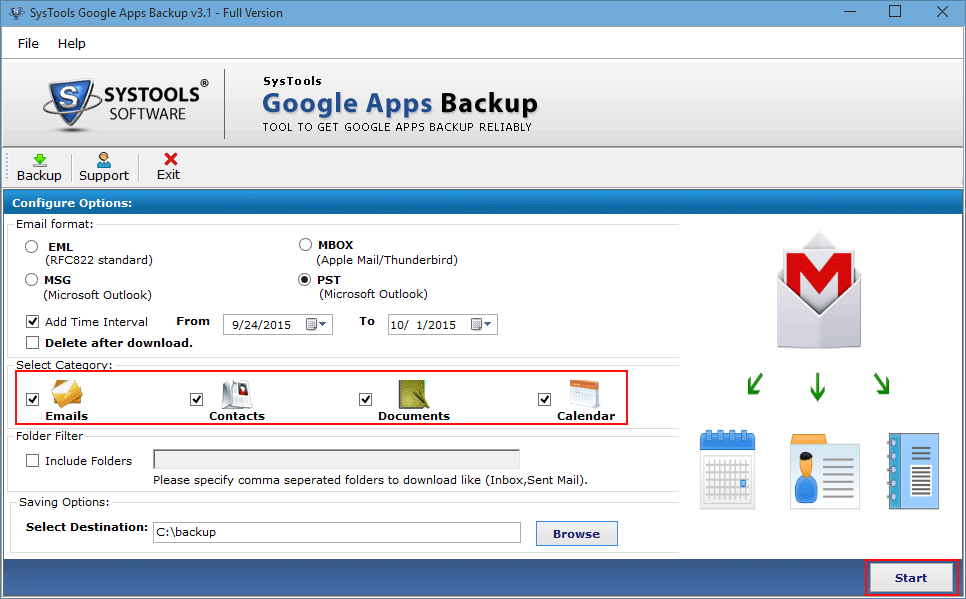 6. Once the process ends, the tool provides a detailed summary report of the complete backup process.

Conclusion
Data Backup is a necessary part of any organization. And the same stands true in the case of cloud as well. In this blog, we demonstrated how to extract emails from Google Apps SaaS. The manual methods take a lot of time to complete. It is also not very flexible due to the lack of customization options. Hence, it is suggested to use the G Suite backup tool to export G Suite emails, contacts, calendars, documents. It provides an easy way to back up the cloud data without compromising the accuracy and performance of the tool.
Stephen Renald is a technical writer with a keen interest in cloud technology. Other than data recovery and file conversions, he also writes tutorials on multiple cloud-related issues such as G Suite Backup, Office 365 Backup, Cloud to cloud migration, etc.